Just 2 days after a fantastic morning's fishing on the Lotheni River, I was back in the Berg, this time fishing a section of the Mooi River just below Kamberg nature reserve.
Shaun and I left Plantations at around 5:30am, and after a short stop for coffee, were at the river by 7:30am. We kitted up and started our 5km walk downstream, from where we would fish our way back to the car.
On the way down we fished a few of the pools without much luck. The weather was overcast, with a cold front approaching, and we figured this could've turned the fish off.
Shortly after turning around and heading back to the car, the sky cleared and the sun came out. Immediately there were signs of fish about, and Shaun was soon into a good Brown (seen below). Shortly after landing the fish it clouded over again, and everything went quiet once again.
Half an hour later the sun was out again, and immediately I was into a good sized Brown (just slightly smaller than Shaun's). And then five minutes later Shaun was into another Brown.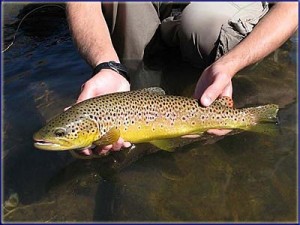 Sadly it clouded over again, and that was it for the fish. So it seems that those Brown Trout enjoy the sun.
We fished the river entirely with nymphs, since it consists of a lot of pools and deeper runs. This caught me without too many nymphs in my box, and lots of dries. In fact, the only fish I caught was on a nymph from Shaun's box, which he tied himself.
All the fish were taken on small black nymphs.
Another thing which I learnt on this trip (thank you Shaun), is that bought flies are rubbish. Okay, that's not totally true. But what he showed me is that the beads and weighting they use are not heavy enough, and they take a long time to sink to the bottom, when compared to his home tied flies. This means they take too long to get down to the fish…especially in faster moving water, and when fishing the flow into pools. The moral of the story…tie your own flies. So now I need to learn to tie smaller freshwater flies.
Anyway, shortly after lunch it started pissing with rain, so we headed back to the car and off home. It was a great days fishing on a beautiful stretch of river.