Not every day goes according to plan…but generally it all works out in the end…
Early on Sunday morning, Sharon and I snuck off for a quick dive at Fairlight. It's not the most popular dive site in Sydney, but it's definitely worth a visit every now and then. Our day got off to a bad start when we discovered a leak in Sharon's regulator's first stage. While I was trying to repair it, a lady walked by with a King Charles Cavalier puppy. Sharon got talking to her, told her we also had a King Charles Cavalier puppy, and explained our situation. Eventually, the lady continued on her walk, and we started packing the dive gear back into the car to go and try hire a regulator from Dive Centre Manly. And then, just as we were about to drive off, the lady returned and offered to get her friend to paint our puppy to improve our day.
After a quick trip to Dive Centre Manly to grab a regulator, we were back in business. We kitted up on the side of the road once again, and then walked down to the dive site. We opted for a beach entry, and swam out following the rocks on the west, until we found a channel in the kelp. From there we dropped down to the bottom, and swam south until we found the wall, where we dropped down into 8 meters of water.
We initially followed the wall in a westerly direction, looking in the nooks and crannies for critters. Visibility was poor, and was worsened by the fact that it was cloudy overhead. This combination made the water feel immensely sharky, and so I stuck close to both the bottom as well as the wall, looking out into a blue more often than usual.
I was happy to be distracted when we discovered a large giant cuttlefish hiding in a cave. For some reason, I absolutely love these creatures, and will never tire of seeing them. At this point we turned the dive and headed back east until we found the small sunken boats. There were surprisingly few nudis around – I'm not sure why, but I needed to call that out. There were however a lot of large fish, which I was unable to identify. They looked similar to luderick, but were larger and without the stripes. They weren't bream or trevally, but they looked exciting, and I was left wondering whether they would take a fly.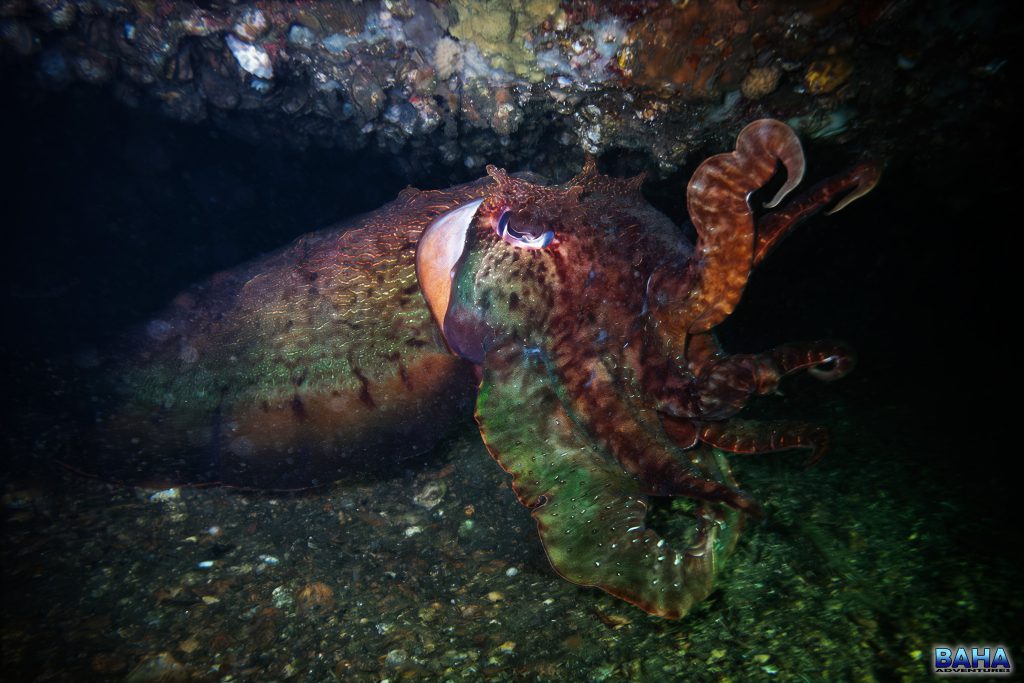 After an hour in the water we were starting to get cold and so we headed back to shore. Despite the murky water, I thoroughly enjoyed my dive, if only for the topography of the wall. And, believe it or not, the lady came through and a few days later we received a painting of Milo in the post.