Our exploration of NSW continued with a 4 day visit to Koala Shores, which is beautifully located on the shoreline of Tilligerry Creek in Port Stephens. We chose Koala Shores for two main reasons: firstly, it promised good fishing opportunities (specifically around the oyster farms); and secondly, it's known to have a small population of koalas – possibly Katie's favourite animal.
We took a leisurely drive up on Friday morning, and were thankfully allowed to check in a little ahead of schedule. After unpacking the vehicle, we did our usual exploration of the park (and of course spent some time on the jumping pillow). For me this meant checking out the boat ramp, and sussing out potential fishing opportunities.
Other than fishing, we had some great fun over the course of he the weekend including 4x4ing in the dunes at Stockton Beach, riding our bikes on the local bike track, and walking through the forests looking for koalas (which we never found).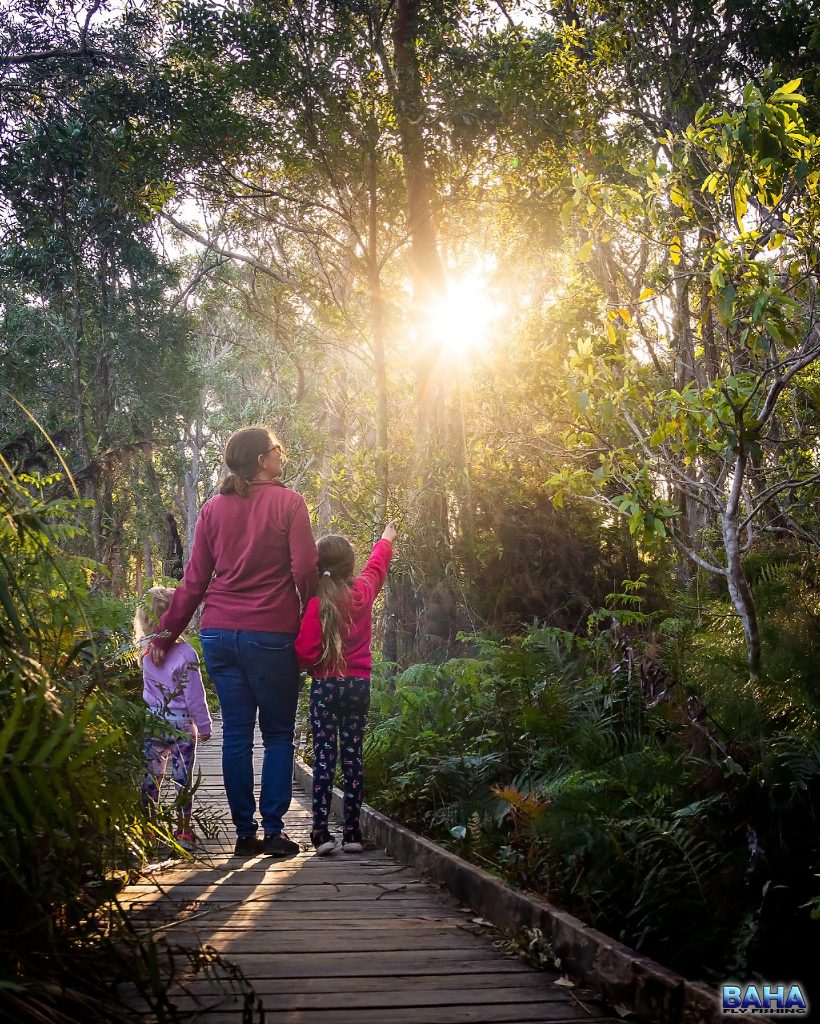 On Saturday, I kitted up my kayak in preparation for an afternoon session on the water. I launched from the campsite's ramp at 3pm, and proceeded to paddle across Tilligerry Creek, where I quickly discovered that my sounder wasn't receiving a signal from the transducer. After fiddling with it for a few minutes, in the middle of the channel, I beached on Stuart's Island where I checked all of the connections. Since everything appeared to be fine, I paddled off, frustrated, while doing some research into possible causes on my phone. Thanks to Google I worked out how to do a hard-reset of the system, which sorted out the issue.
Having lost close to 30 minutes, I got down to targeting bream on fly around the oyster racks. When this proved unsuccessful I headed up Bob's Farm Creek in search of some flathead. However, despite finding some promising water and structure, I still couldn't find any fish. As the sun was starting to dip towards the horizon, I started heading back towards camp, fishing the shallows around Stuarts Island on route. This proved to be a good move as I immediately started getting bumps on a small Crazy Charlie. I changed flies to a larger Clouser as I rounded the tip of the island, and promptly hooked into a beaut of a flathead. Since I was already on route home, I decided to keep the fish for dinner – something I don't normally do.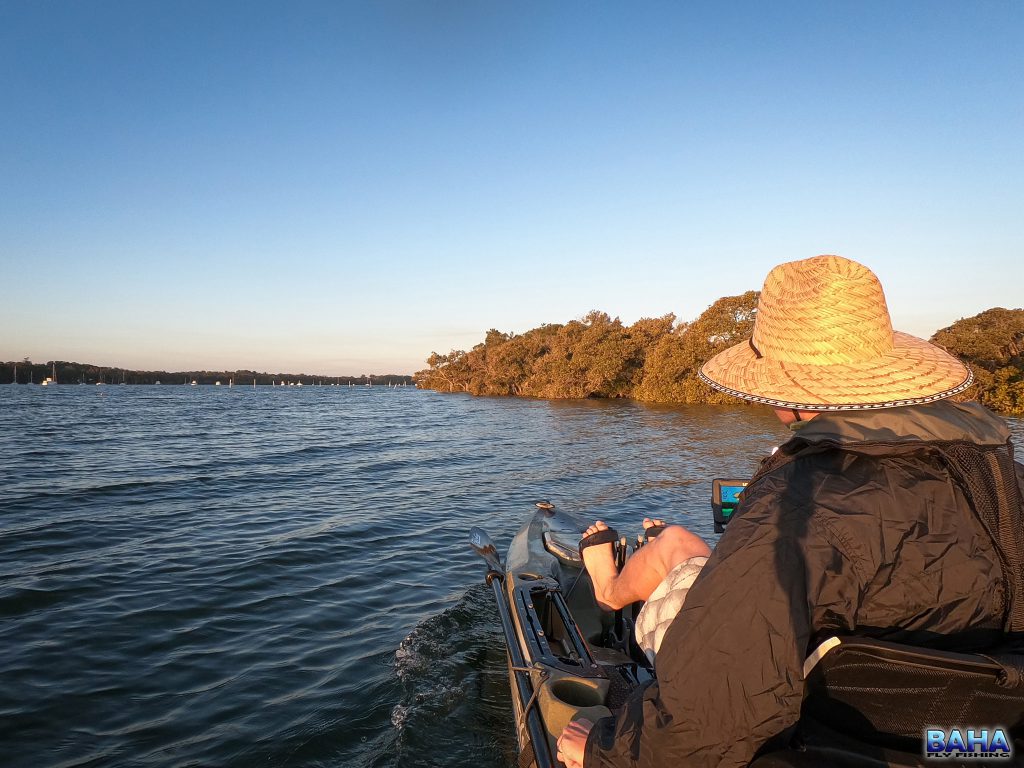 Back at the cabin I quickly realised we didn't have any filleting knives, or ingredients with which to cook the fish. Sharon thankfully offered to shoot off to the local Woolies, and was soon back with a bag of (secret) ingredients and a "knife". I say "knife", since there weren't many options so she bought the best she could, which was certainly not meant for filleting, or cutting.
I headed down to the fish cleaning station at the waters edge. Strangely, it was located in the middle of somebodies campsite, which meant I hacked a fish to pieces using a blunt "knife", as two shocked campers looked on.
With 2 less than perfect fillets in hand, I got down to cooking some popcorn fish for starters. Much to my surprise, Emma absolutely loved it, which left me brimming with pride.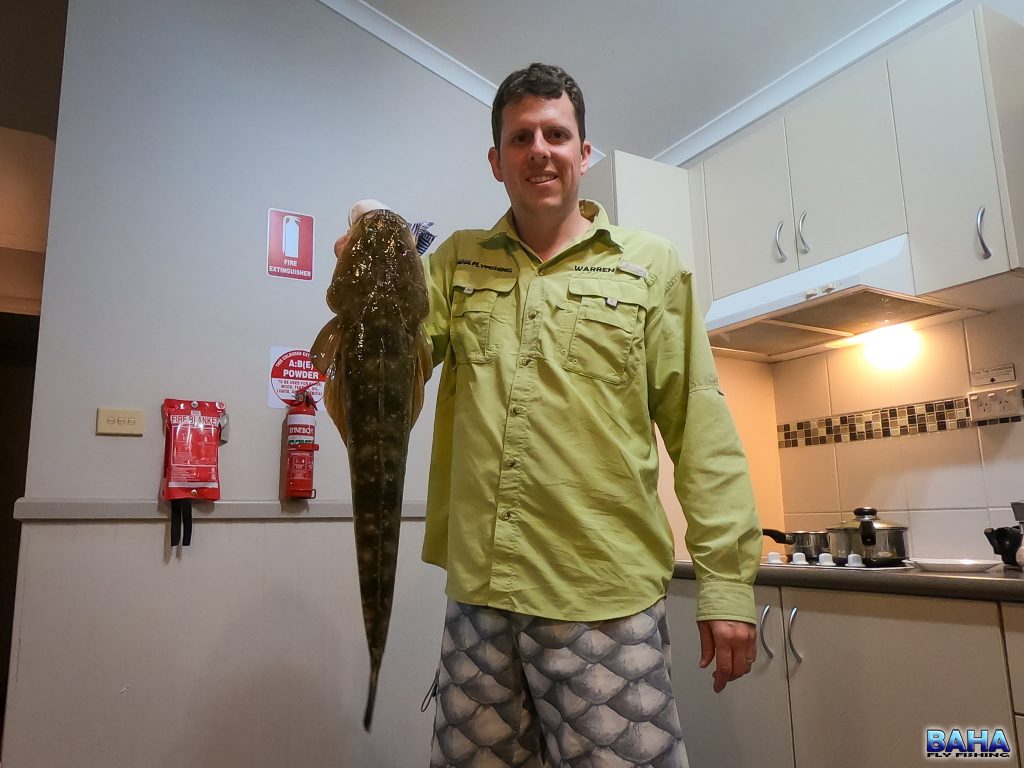 On Sunday I headed out for another afternoon fish. Sadly, the wind was howling so most of the fishing was done using lightweight spinning gear, throwing soft plastics. I had the majority of my success in deeper water around the edges of weed beds, but only managed to pick up a few small flathead. On the plus side, this meant I didn't need to embarrass myself around the campers with another failed filleting attempt.
And with that, as quick as it started, our trip was over. The next morning was spent cleaning the cabin and packing up. There was of course time for a quick play on the jumping pillow. And we made use of a nearby firehose to spray down the car after it's time on the beach. Despite not having seen any koalas, or caught many fish, it's definitely a venue worth returning to. The cabins were comfortable, the fishing opportunities looked promising, and there was plenty to do for the kids, and all only a few hours from Sydney.