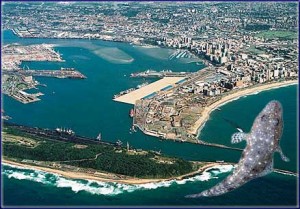 With another week behind us it meant it was time to get a fly into the water again. An old fishing buddy of mine, Nick "the Badge" Nortje, joined me and we headed to Amanzintoti to hit some of the spots there. I was adamant I was going to nail the fish that I had lost there last weekend.
Sadly however this was not to be. We fished the area for about 2 hours on an outgoing tide with no luck. Both of us got a small knock, but no fish were landed.
As most fishermen know, when the fishing is bad, the beer drinking is good…so we decided to kill two birds with one stone, and headed to the harbour. It was spring low by now so we decided to do some Gurnard bashing on the banks, followed by lunch and a beer at Pirates Arms.
How do you know you're a pirate? You just Aaaarghhh!!
We got onto the banks at about 9am and waded them on a now pushing tide. As with last week, there was a lot of surface activity, and so we tried for some small kingies and/or springer with a few bait fish imitations, flippers, poppers, etc.
This didn't produce so much as a follow, so we eventually stuck on the deadly grunter charlie and proceeded to pull them in slowly over the prawn beds. As expected we were soon both into fish. I managed to land two bartailed flatheads (Sand Gurnards), one of which was a reasonable size. Nick also pulled in two gurnards, with the added bonus of landing a small pickhandled barracuda. There were also a lot of sizable mullet around, but catching one of these proved once again to be my nemesis.
Feeling a lot better about ourselves now, we headed back to the car, grabbed our wallets and headed for the trusty Pirates Arms. For those of you who haven't been there before, I would certainly recommend it. It has a unique atmosphere, cheap food, big portions, and it tastes fantastic. Give the fish and chips a try, but keep away from the pork pie.
That's it for now…hopefully I'll get a line into the water next weekend.