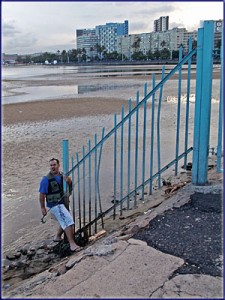 Due to a very busy weekend, it was going to be tough to try and fit in a trip to the salt. As a result Nick and I braved what were far from perfect conditions, and fished after work on Friday.
I picked Nick up at 5pm, and we headed straight for the harbour. We arrived at 5:30 and had our lines in the water by 5:45. Low tide was at 7 so we fished a pulling tide in the last remaining light, and then a slight pushing tide in the dark. We had decided not to brave the Durban Harbour sand banks at night (apparently there are a lot of sharks around) so we fished off the jetty by the yaght club.
There was very little visible action, and not many baitfish around. Nick was fishing a floating line with poppers and flippers, while I tried an intermediate line with small baitfish and prawn immitations. After trying every conceavable fly and retrieve, we had to admit defeat and head for the Pirate's Arms for a few beers. Nick was a bit luckier and had one take on a flipper. Sadly he missed the opportunity and didn't land the fish.
I suppose its worth mentioning that one small Skad came out on dropshop.
Not our best outing, but its always great fun to have a fly in the water, and a beer in the belly.
Oh, and in case you're wondering…Nick is seen here performing his version of pole dancing…WTF?!