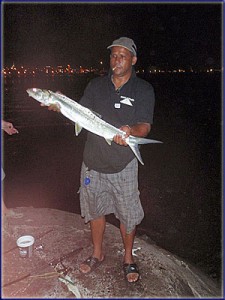 Another weekend, and another trip to the harbour. I should probably try and toss a fly elsewhere, but its just so convenient. Plus fishing some of the beaches on a Friday evening just isn't safe. Added to this is of course the fact that fish have been coming out there, and the beer.
I arrived at the harbour around 5:30, and was in the water shortly after that. It was still a tad early, but you can't catch without a fly in the water. High tide was at 7pm, so I fished an incoming tide, followed by and outgoing.
As the sun started to set suddenly the water came alive. Although I've only fished the harbour a handful of times in the last 2 years, I have fished it hundreds of times in the past. And this was the most action I've ever seen on the surface. Glassies were being bashed left, right, and center.
Sadly however, no luck for me, yet again. I was fishing intermediate, with mostly glassy like patterns, and slow retrieves. I did try a few bait fish patterns, and faster retrieves, but nothing produced.
There were a few drop shot fishermen around, as well as a guy fishing with live bait. Nothing came out the water on live bait, but one of the drop shot guys pulled out a size Springer. Congratulations Cox!
Well, that's it for this weeks report. Lets hope my luck turns soon…